The Wavecrest Difference
Identify Human Action
Identify Human Action
Ascertain actual human action clicks.
Determine user time online.
Proactively focus on the weakest link.
Easily manage human factor.
Smart Engine Analytics
Smart Engine Analytics
Technical data easier to consume.
Distinguishes between visits and hits.
Accurate time online calculation.
Clearly observe the human factor.
Comprehensive Employee Reporting
Comprehensive Employee Reporting
Actionable, pertinent Web-use reports.
Dramatically reduce time to analyze.
Customizable, interactive reports.
Discover all cloud services accessed.
Policy and Compliance Management
Policy and Compliance Management
Ensure the human factor is managed.
Enforce Acceptable Use Policy.
Verify compliance to CIPA & HIPAA.
Continuous improvement process.
Collaboration
Collaboration
Both human action & technical issue.
Involves all aspects of business.
Right Information to the right people.
Make informed, collaborative decisions.
Manager Access
Manager Access
Reporting-only self-service access.
IT controls portal access privileges.
Easily collaborate and share reports.
Easy-to-consume analytics.
Deeper Forensic-Level User Audits
Deeper Forensic-Level User Audits
Complete view of every link clicked.
See the exact search terms entered.
Easily segment user activity.
Reduce the time to analyze big data.
Scalability
Scalability
Easy to scale system.
Extremely fast engagement.
Distributed architecture.
NoSQL distributed database
Identify Human Action - Hits vs. Visits
Most accurate visit algorithm in the industry.
Visits give you uncluttered, relevant Web activity detail based on user clicks.
Visits are a critical component to understanding human behavior.
Hits consist of unsolicited traffic and are not a reliable tracking metric on its own.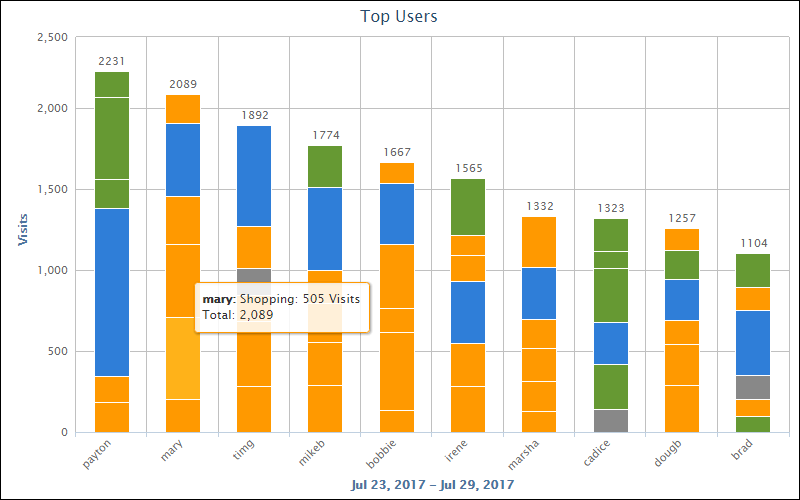 Top Users' Visits Bar Chart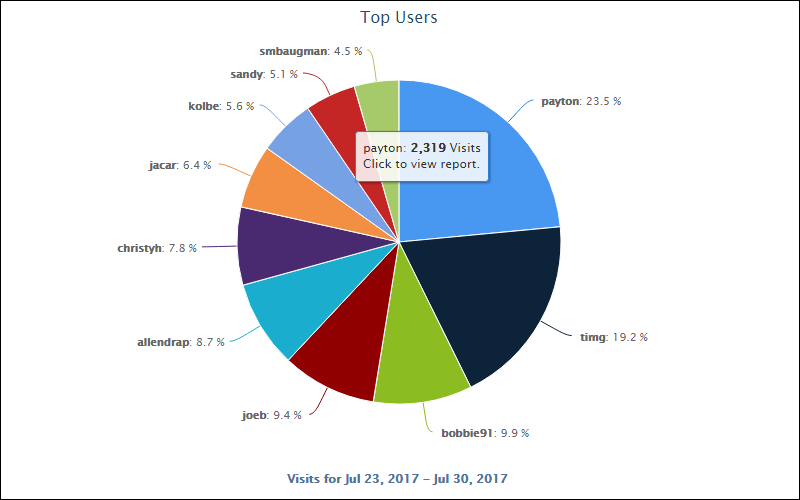 Top Users' Visits Pie Chart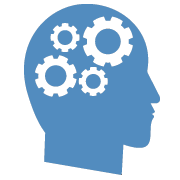 Smart Engine Analytics
Smart Engine Analytics
Makes technical data easy to consume and manager-ready.
Utilizes precise algorithms to present accurate and up-to-date Web-use data.
Analyzes large volumes of data over long periods of time.
Feeds pertinent data to the reporting dashboards.
Dashboard Charts
Dashboard Home - Get a quick overview of your entire organization.
Top Users - Quickly discover which users had the most activity.
Top Time Online - Easily see how much time users are spending online.
Top Categories - Quickly find out which categories had the most activity.
Top Sites - Learn which sites had the most activity.
Top Bandwidth - Find out which users & sites are hogging bandwidth.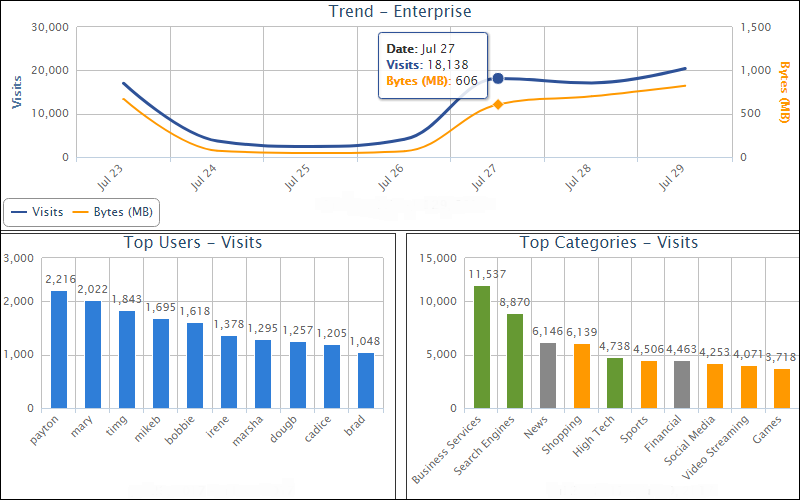 Dashboard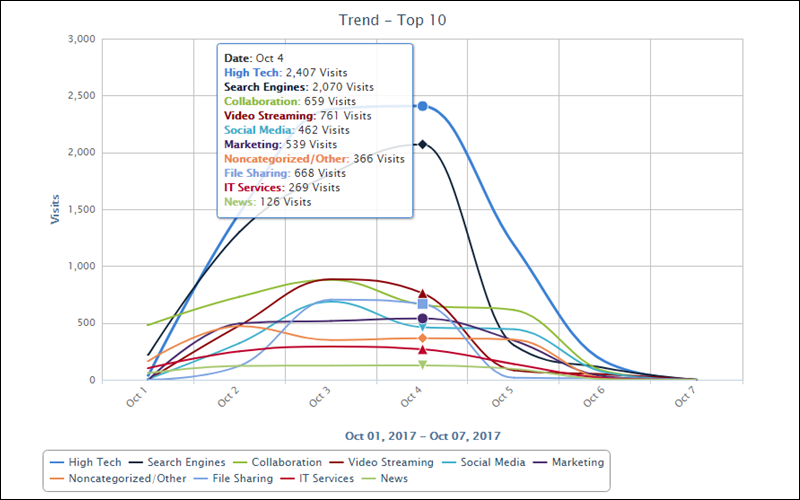 Top Categories Trend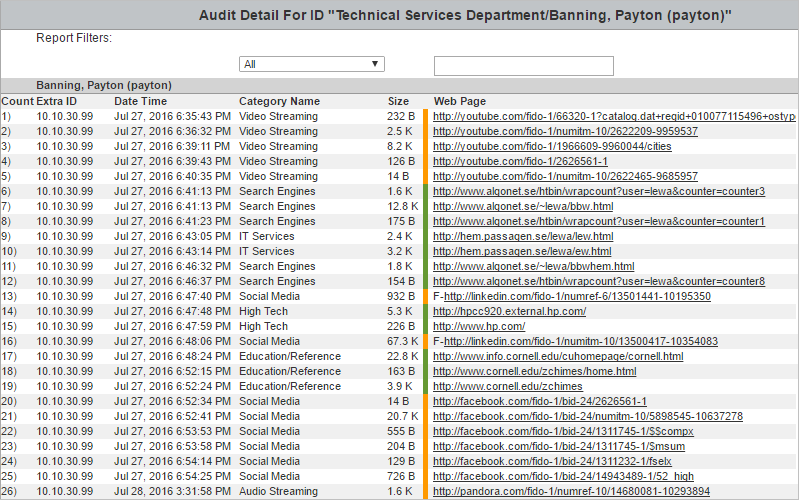 User Audit Report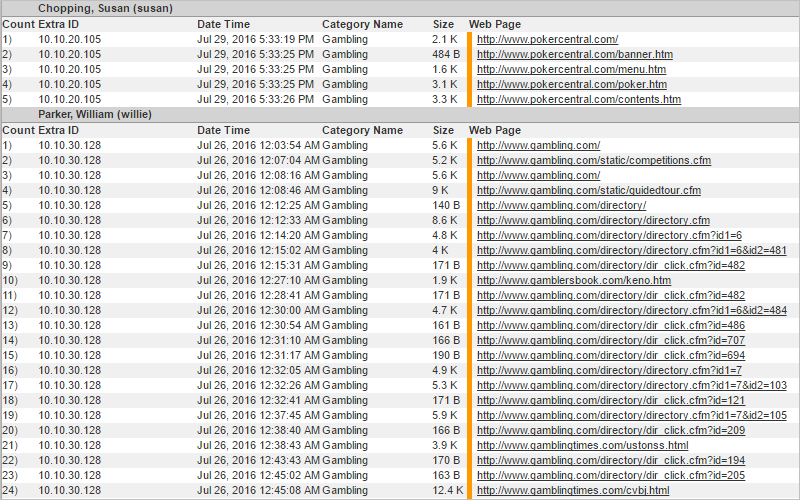 Category Audit Report
Detailed and Comprehensive Audit Reporting
Show activity by entire organization, groups, users, and categories.
Get accurate, actionable, manager-ready detailed reports.
Easily view the data from several angles and different perspectives.
Dramatically reduce the time to analyze your organization's Web use.
Comply with government and industry regulations such as CIPA and HIPAA.
Deeper Level of User Activity Analysis
Complete view of every link a user clicks.
See the exact search terms entered by users and their search time.
Determine how much time a user spends online.
Run an individual user report that details only Legal Liabilities Web use.
View Web content most frequently visited by a user.
Segment user activity by category acceptability classification.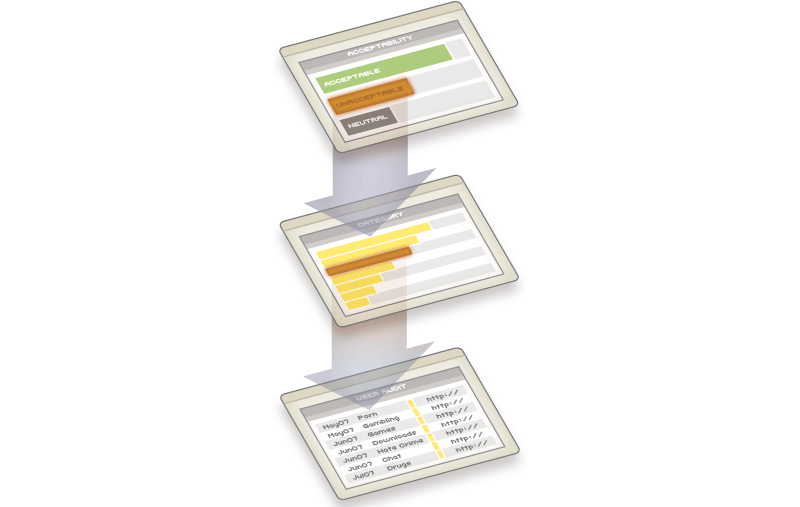 Drill-Down Reporting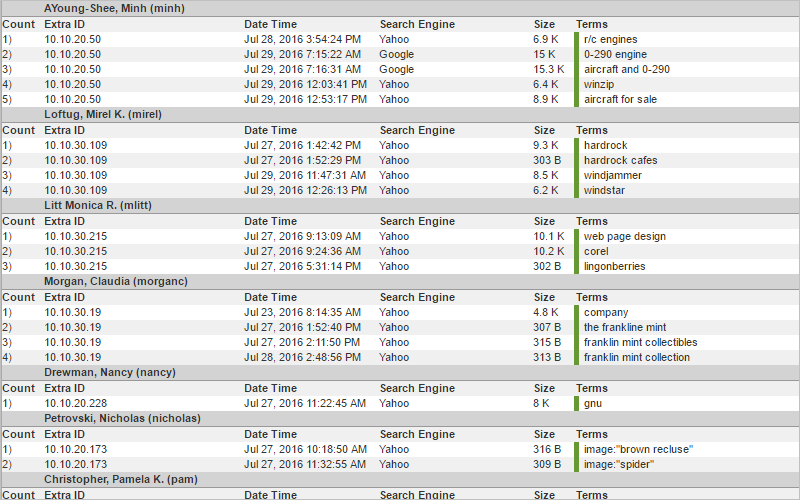 User Search Terms Audit Report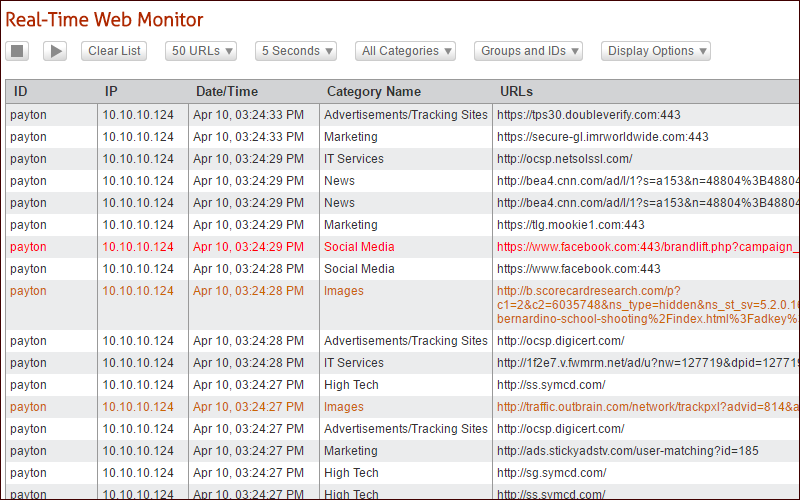 Real-Time Employee Web-use Monitor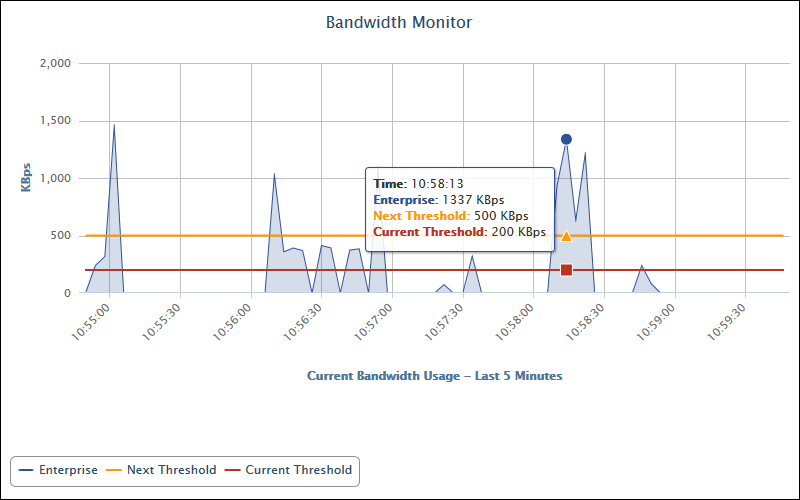 Real-Time Employee Bandwidth Monitor
Real-Time Employee Web-use Monitoring
View Web activity in real time by user ID, URL, and its category.
View only specific users, groups, or categories.
Identifies bandwidth hogs in real time and provides trending.
Sends e-mail notification when bandwidth threshold is exceeded.
Employee Web-use Behavioral Analytics
Expose abnormalities in user activity.
Identify potential insider threat behavior.
Flag possible legal liability issues.
Assess trends for data breach exposure.
Observe patterns for lost productivity.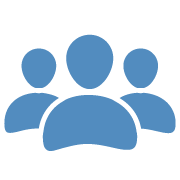 Manage The Human Factor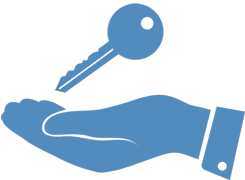 Manager Access
Manager Access
Scheduling and Distributing Reports:

Send easy-to-read reports directly to managers.
Reports are restricted to only the manager's defined group(s).
Easily distribute reports manually or schedule for automatic distribution.
Interactive capability allows managers to drill down without IT assistance.

Manager Self-Service Portal:

Reporting-only access portal for managers and HR.
Managers create reports on authorized groups without assistance from IT.
IT assigns and maintains manager portal access privileges.
Easy-to-read, manager-friendly, actionable dashboard.
Monitor Employee Cloud Usage
Discover all cloud applications being accessed in your organization.
Expose both corporate-sanctioned and employee-introduced cloud services.
Identify risk and analyze usage of your network resources.
Meet security and compliance requirements while safely adopting cloud services.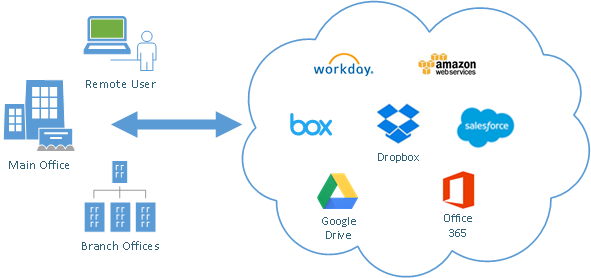 Monitor Employee Cloud Usage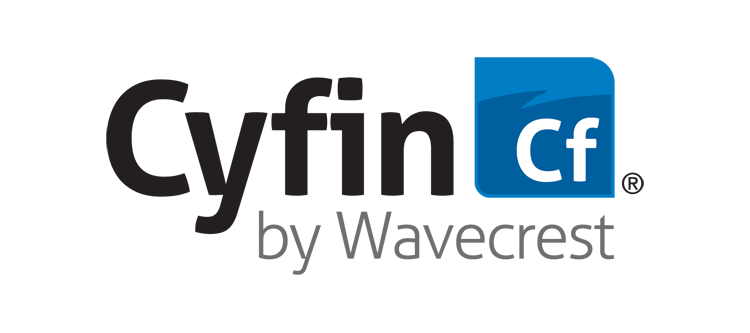 Cyfin

- Generate reports using your existing firewall or gateway logs.
Supports all major log file formats:

Palo Alto Firewall
Check Point
SonicWall
WatchGuard

Built-in Syslog Server.
Supports multiple log file configurations.
Manager self-service portal.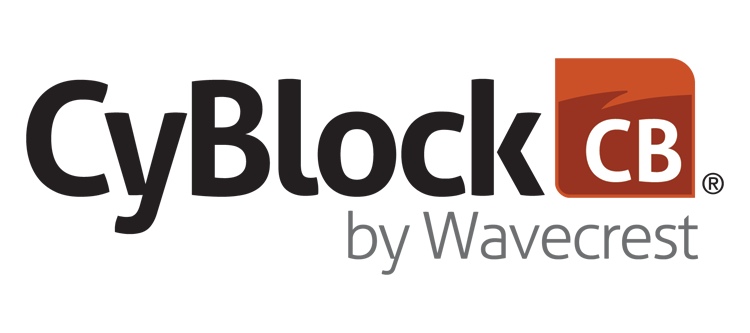 CyBlock

- Employee Web Filtering Gateway.
Capture & Monitor all employee Web traffic.
Real-time HTTPS decryption & inspection.
Detailed Forensic User Audits.
Policy and Compliance Management.
Bandwidth Performance Management.
Threat Protection.
Cloud Service Management.
Manager self-service portal.
Why Us
Industry Leader Since 1996 – Stability, Experience, and Knowledge.
Global Customer Base – Customers on every continent except Antarctica.
The Right Focus – Concentrating on The Human Factor.
Best-of-Breed Products – Visibility, Compliance, Security, and Productivity.
Exceptional Support – Dedicated, Effective, and Responsive Support.
Best Value in Key Areas – Functionality, Price, Support, and Customer Service.
© Copyright 1996-2018 Wavecrest Computing. All Rights Reserved.