Secure Cloud-Based Employee Web-Use Filtering Service
Easy-to-launch cloud-based Web filtering service applied regardless of employee location, without the cost of hardware or software installations and ongoing maintenance.
The CyBlock Cloud Difference
Quick Launch Setup
Quick Launch Setup
Deploy in minutes.
No software to install.
No hardware required.
Simple, secure implementation.
Cloud-Based Web Filtering
Cloud-Based Web Filtering
Always-on filtering.
User/Group filter polices.
Time based exceptions by day/hour.
Block prohibited search terms.
Virtual and Distributed Workforce
Virtual and Distributed Workforce
Highly elastic and adaptable.
Easily scale to all offices and users.
Fits today's distributed workforce.
Perimeter-less Coverage.
Save Money
Save Money
No need to purchase web gateway.
Reduce required admin time for IT.
Minimize infrastructure maintenance.
Swift and continuous ROI.
Full Cloud SaaS Solution
Deploy in minutes with simple, intuitive steps.
Highly elastic and adaptable solution.
Easily scale to all offices and users.
Follows the user with perimeter-less coverage.
No hardware installation or maintenance.
Step 2 - Push Settings
Push out browser setting for cloud access using PAC or Client.
Step 3 - Customize Policies
Customize our pre-defined rules for your use case.
Lift Off
You are now in control of your employees' Web use.
CyBlock Cloud - Price Calculator
99
% Discount / $
99.99
per user
For additional years, please contact Sales.
*Pricing is based on CyBlock Cloud Lite deployment.
Enter a valid user count, or contact sales.
For licenses over 150 users, please contact Sales.
Advanced Employee Web Filtering
Inspect or "tunnel" HTTPS by Web site, category, or user ID.
Configure policy exceptions for different users and groups.
Use white & black lists to restrict or allow access to certain sites.
Apply a filtering schedule by day, hour, or half hour.
Block based on the content type being accessed.
Block prohibited search terms from being searched.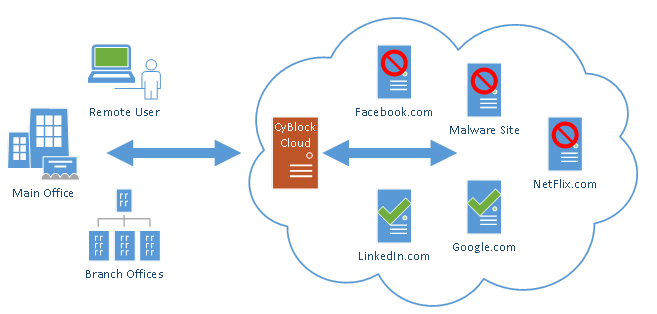 Limit Employee Time Online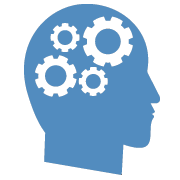 Machine-Learning Analytics
Smart Engine with Machine-Learning Analytics
Makes technical data easy to consume and manager-ready.
Analyzes large volumes of data over long periods of time.
Provides rapid and superior data insights.
Tags associate related domains with friendly names.
Cloud Security and Industry-leading Compliance
Keep out malware, Trojan horses, spyware, phishing attacks, and more.
Gain visibility into encrypted HTTPS traffic to apply polices and eliminate risks.
Consistent policy enforcement and security for all users regardless of location.
Our cloud data center is state-of-the-art SSAE 18, SOC 3, SOC 2 certified.
HIPAA and HITECH audited infrastructure.
Five Easy Deployment Options
Windows - Simple Windows Installer.
VMware - Easy-to-deploy virtual appliance.
Appliance Rack & Mini - Simple on-site turnkey solutions.
Cloud Service - Quick setup and low administrative costs.
Hybrid - Combines local and cloud benefits.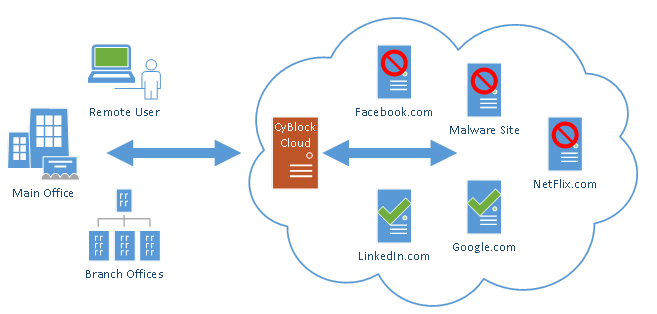 Cloud Deployment Option Example
What our customers are saying about CyBlock:
"CyBlock has helped my company improve productivity from our personnel by 60% since we implemented it's use within our network. This has been an invaluable tool that I'd recommend to anyone in need of filtering and blocking technology! Thank you Wavecrest"!
–Chris Warren The Five Star Institute
"CyBlock has for three years been a vital tool in our efforts to manage some 16,000 users' behaviour on the Web. Excellent functionality coupled with strong reporting capabilities has made our job much easier!"
–Jonas Sultan, AstraZeneca, Sweden
"We are pleased with the CyBlock product. We have been live with it for about 1 month now and find it to be useful for tracking our web usage. Yesterday I saw the activity light on our router flashing furiously so I ran an audit report and found out why by seeing which site(s) a couple of users were accessing."
–Phil Niles, Cottingham and Butler, Iowa
"Even though we have a full T1 at each location, I'd still say the benefit from more bandwidth is worth the cost of the software. I found out that one of my users downloaded a program that was hitting the Internet 9,000 times an hour. Needless to say that program has been removed."
–Roger Lewis, Northwest Bank and Trust, Iowa
Why Us
Industry Leader Since 1996 – Stability, Experience, and Knowledge.
Global Customer Base – Customers on every continent except Antarctica.
The Right Focus – Concentrating on The Human Factor.
Best-of-Breed Products – Visibility, Compliance, Security, and Productivity.
Exceptional Support – Dedicated, Effective, and Responsive Support.
Best Value in Key Areas – Functionality, Price, Support, and Customer Service.
© Copyright 1996-2020 Wavecrest Computing. All Rights Reserved.