Secure Employee Web Filtering and Monitoring Suite
CyBlock provides advanced content Web filtering, threat protection, comprehensive employee reporting, and more.
The CyBlock Difference
Secure Web Content Filter
Secure Web Content Filter
Manage real-time Web traffic.
Optimized SSL Inspection.
Limit employees' time online.
Restrict or allow certain sites.
Policy and Compliance Management
Policy and Compliance Management
Ensure the human factor is managed.
Enforce Acceptable Use Policy.
Verify compliance to CIPA & HIPAA.
Continuous improvement process.
Smart Engine Analytics
Smart Engine Analytics
Utilizes machine-learning algorithms.
Technical data easier to consume.
Provides actual Web browsing activity.
Accurate time online calculation.
Comprehensive Employee Reporting
Comprehensive Employee Reporting
Real Web browsing activity reports.
Deeper Level of User Activity Analysis.
Dramatically reduce time to analyze.
Customizable, interactive reports.
Accurately identify user clicks.
Web Content Filtering
Filter based on the Website content category.
Configure policy exceptions for different users and groups.
Use white & black lists to restrict or allow access to certain sites.
Enable users to bypass a blocking action with coaching.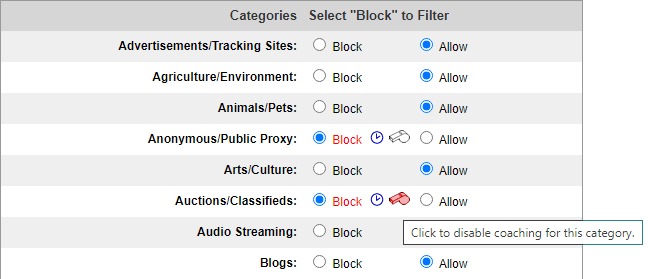 Web Content Filtering
Advanced Filtering Scheduler
Advanced Filtering Features
Apply a filtering schedule by day, hour, or half hour.
Block general video streaming while allowing approved videos.
Block prohibited search terms from being searched.
Enable the Safe Search feature in all browsers.
Fully inspect or "tunnel" secure Web traffic (HTTPS).
Active Directory Integration
Seamless AD integration.
Securely integrate AD Departments, Companies and Security Groups.
Easily provide admin or manager access via AD integration.
Limit manager access based their configured AD groups or departments.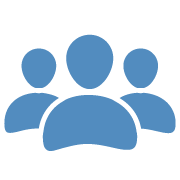 Active Directory Integration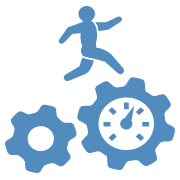 Productivity & Time Online
Managing Productivity & Time Online
Application and Website reports with rollup of time spent.
Monitoring productivity and usage of company web services.
Easily see how much time users are spending online.
See time online by friendly Website name, not by ambiguous Domain Name.
Accurately identify actual user clicks, providing managers with clear, useful data.
Smart Engine with Machine-Learning Analytics
Makes technical data easy to consume and manager-ready.
Analyzes large volumes of data over long periods of time.
Provides rapid and superior data insights.
Tags associate related domains with friendly names.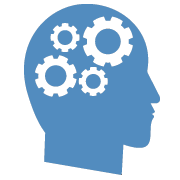 Machine-Learning Analytics
Sample Reports
Dashboard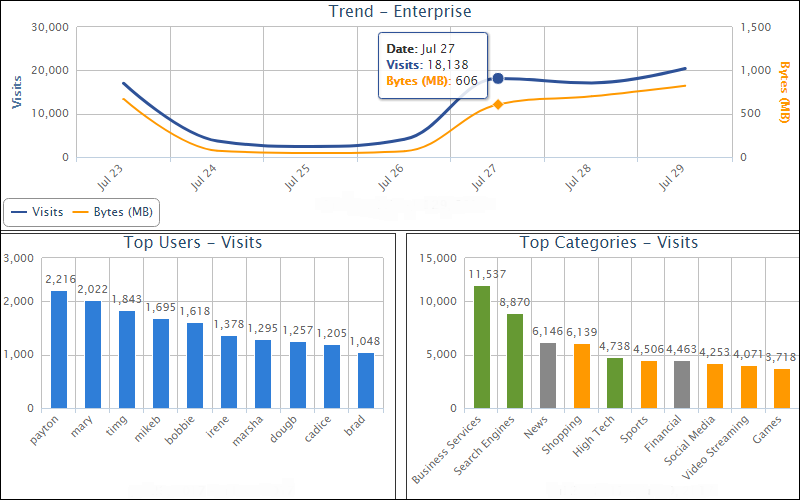 Top Categories Trend by Visits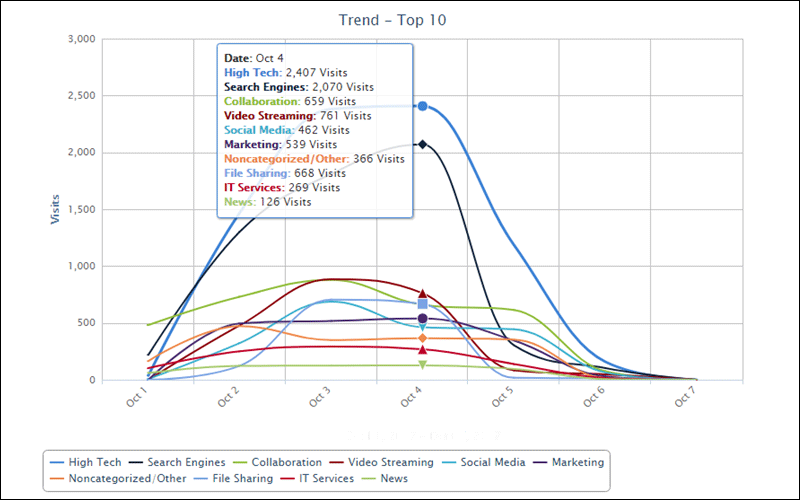 Heatmap - Web Visits by Hour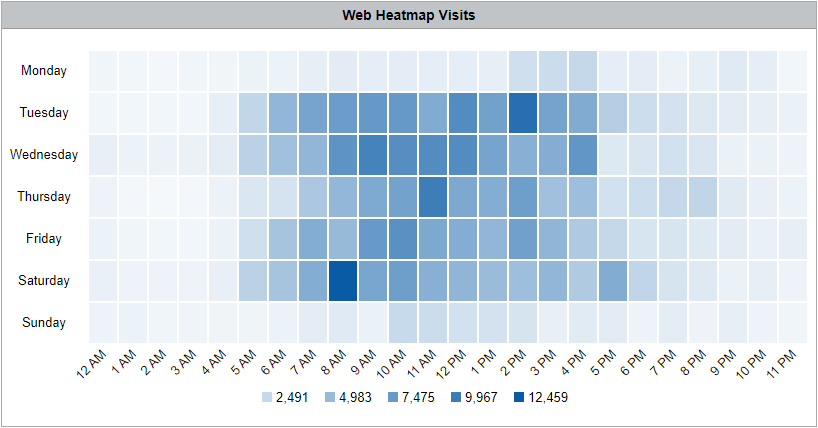 Trend - User Compare Visit Activity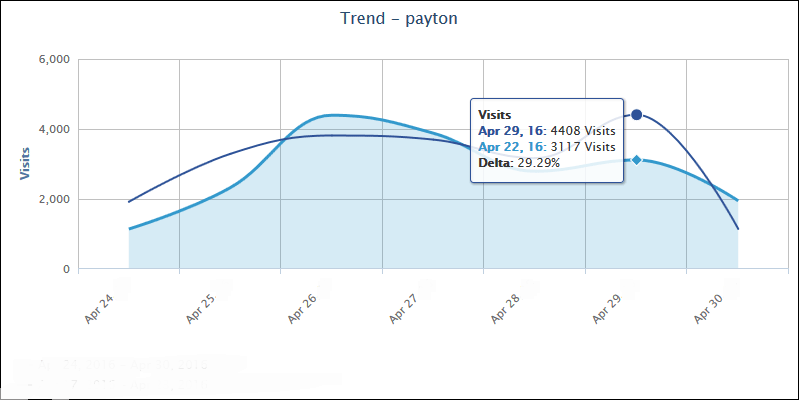 Trend - Department by Bytes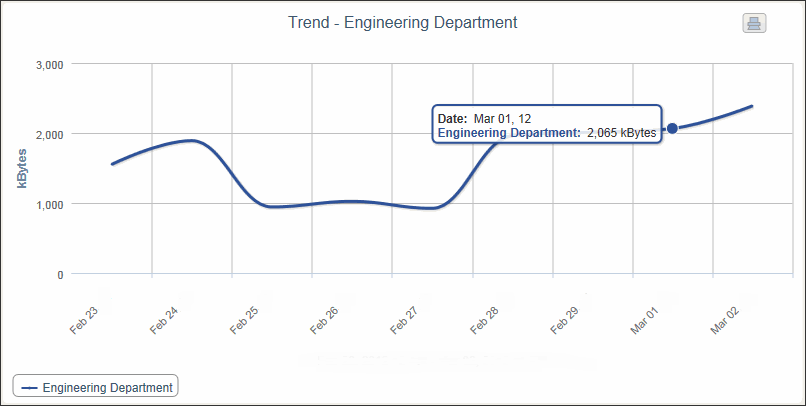 Pie Chart - Top App/Site by Time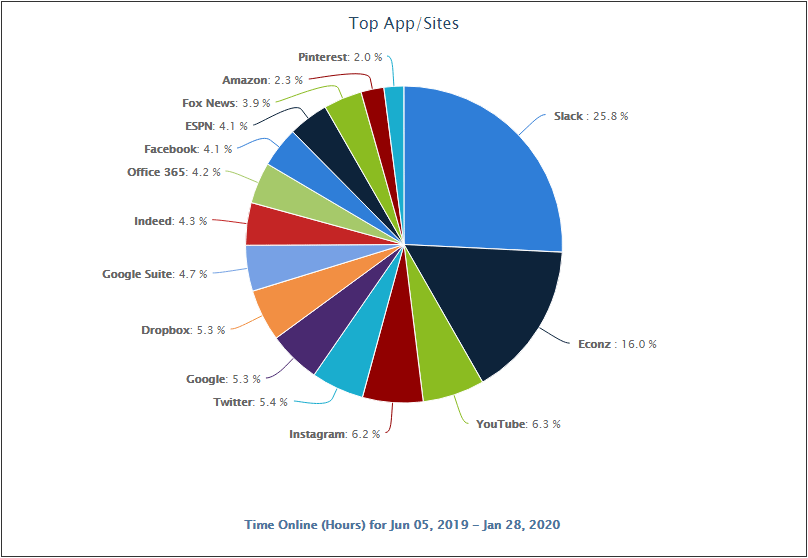 Pie Chart - Top Groups by Bytes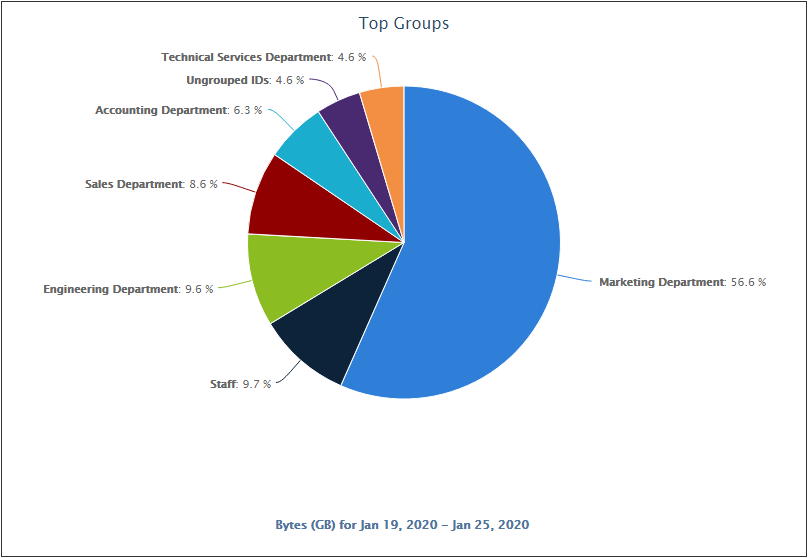 Top Chart - App/Site by Time Online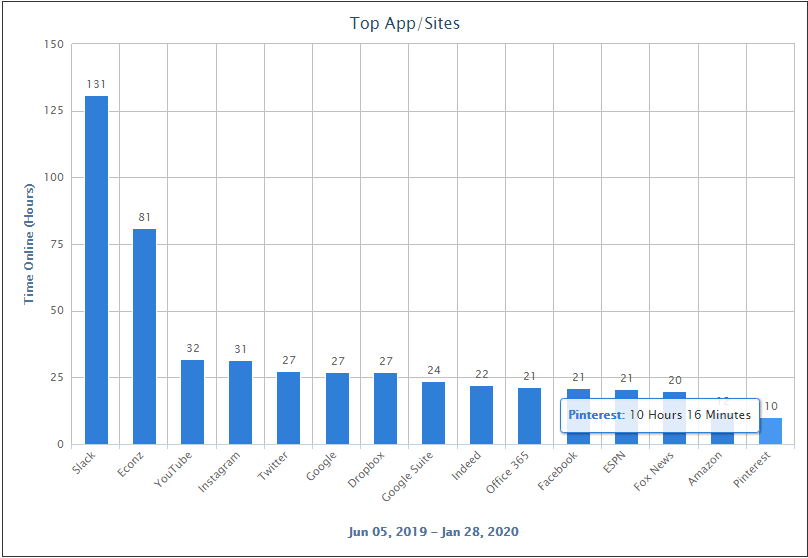 Top Chart - App/Site by Visits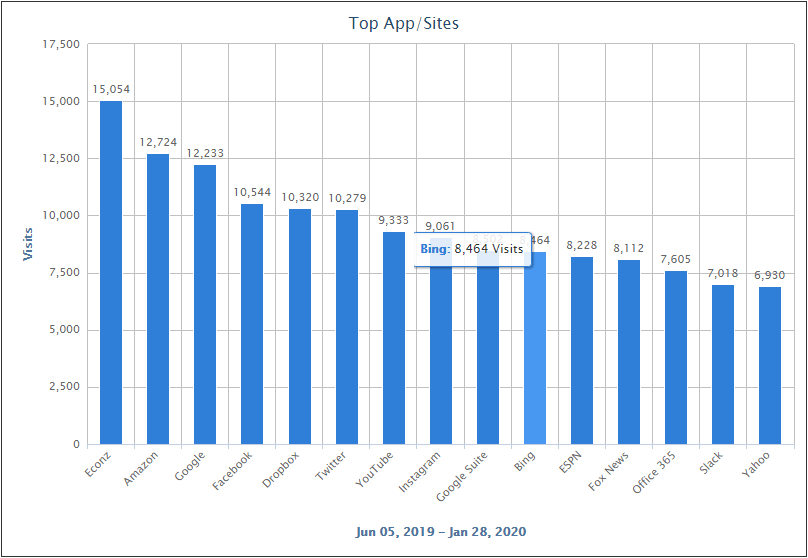 Top Chart - User by Category Visits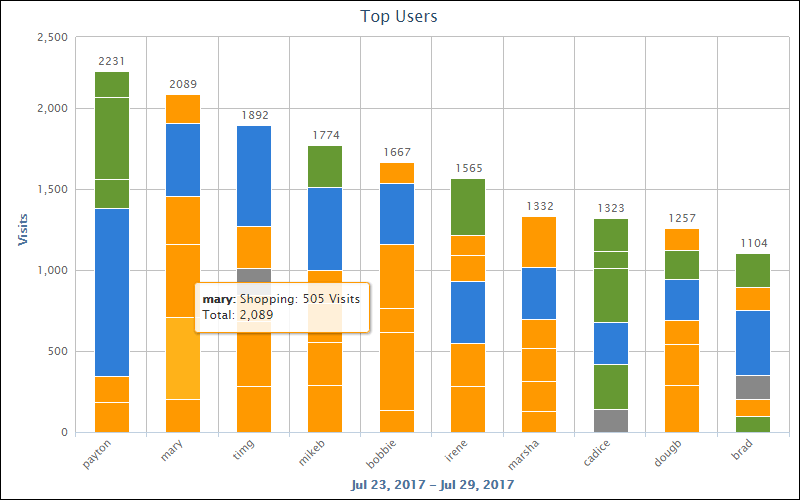 Top Chart - Category by Groups Bytes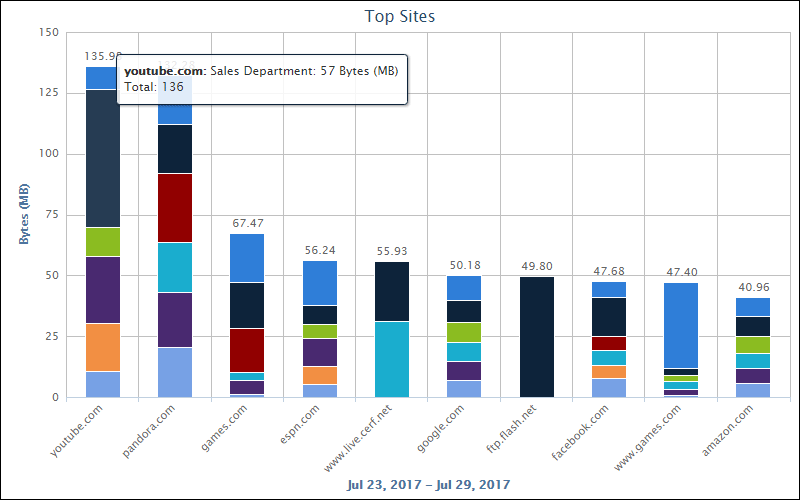 Top Table - App/Site by Time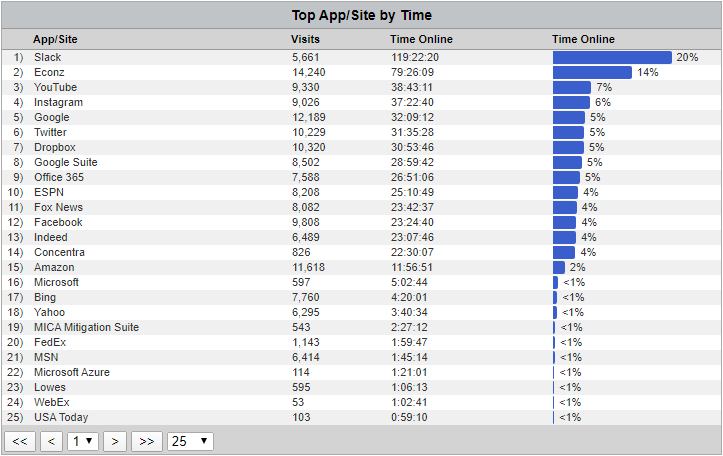 Top Table - Category by Time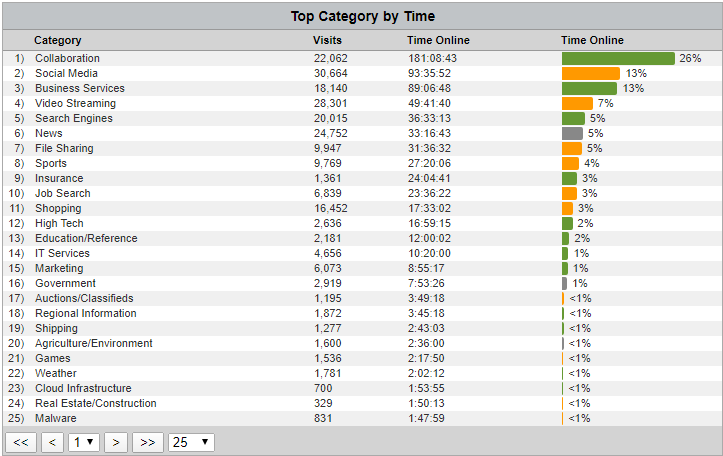 Top Table - User by Time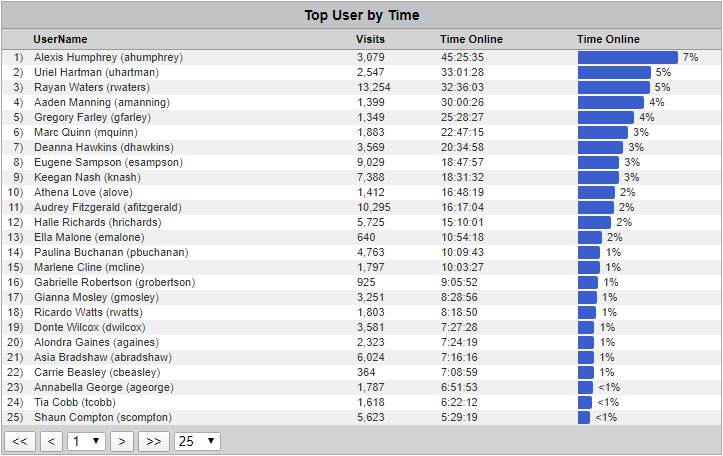 Top Table - Domain by Time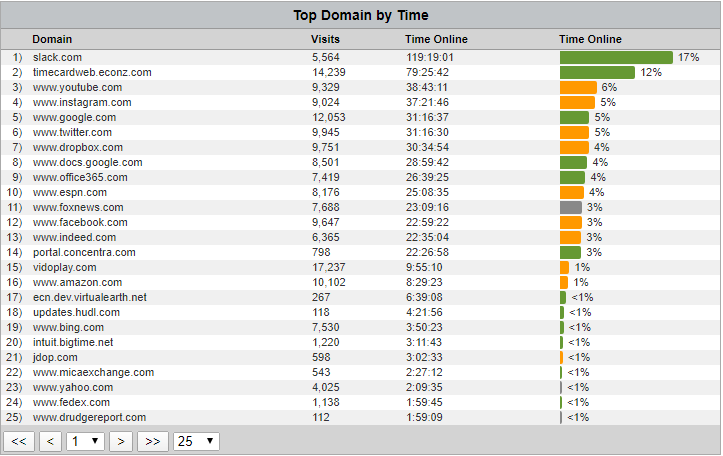 Table - User Audit Detail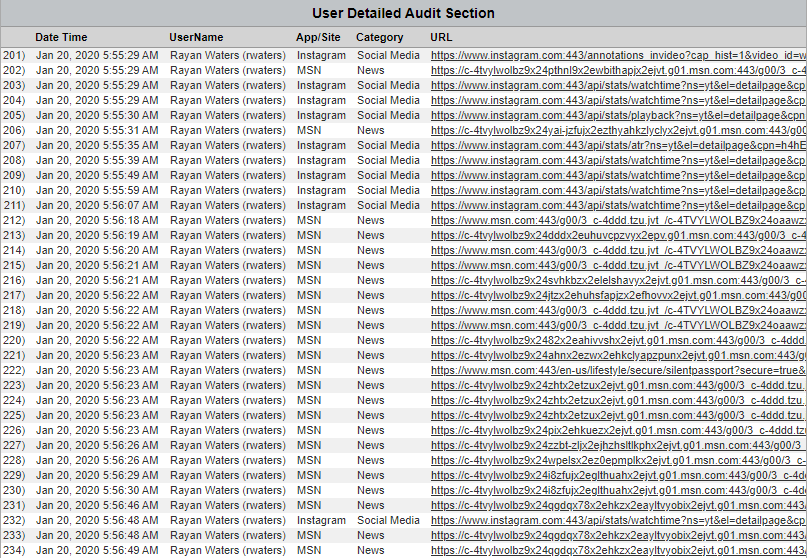 Table - App/Site Audit Detail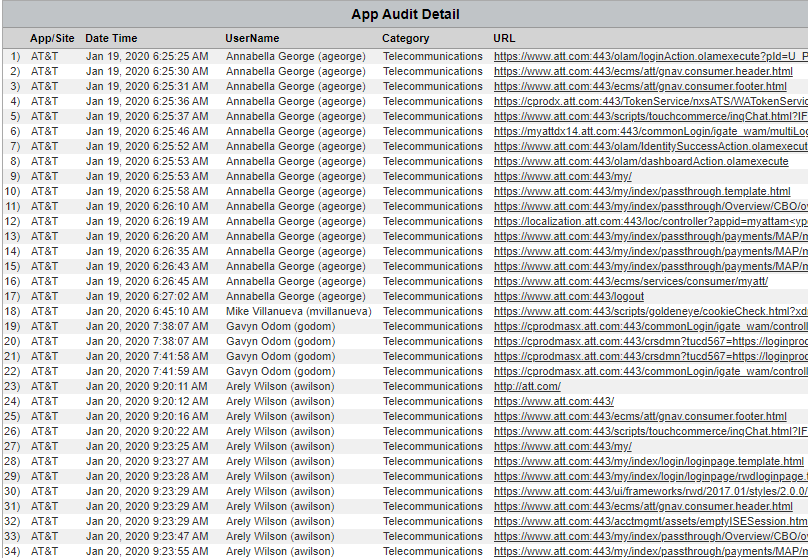 Table - Audit - Search Terms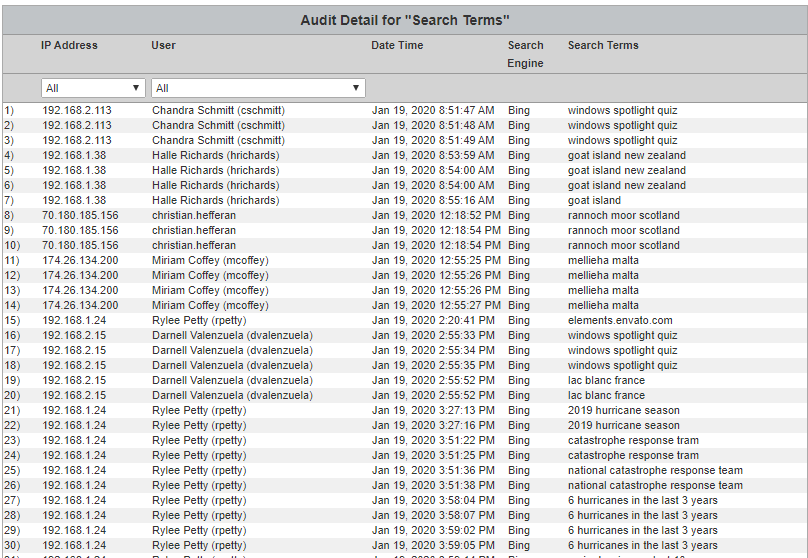 Table - Audit - Facebook by User Name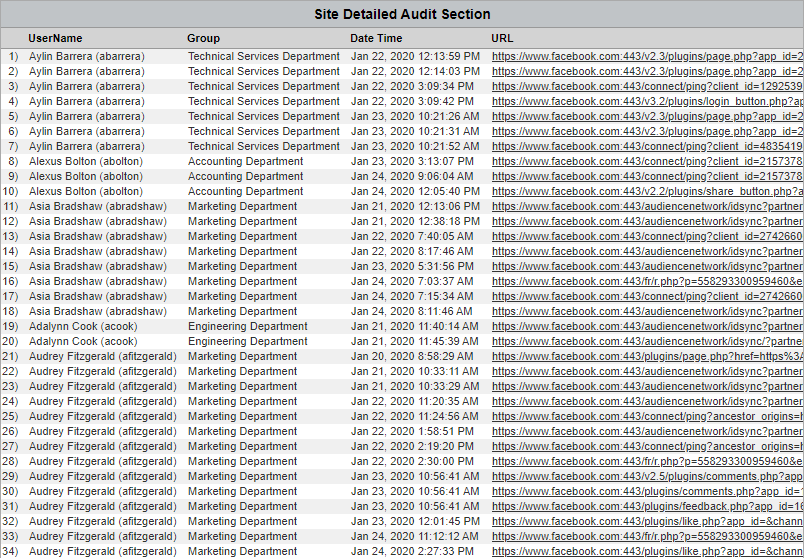 Table - Audit - Referer Link by Domain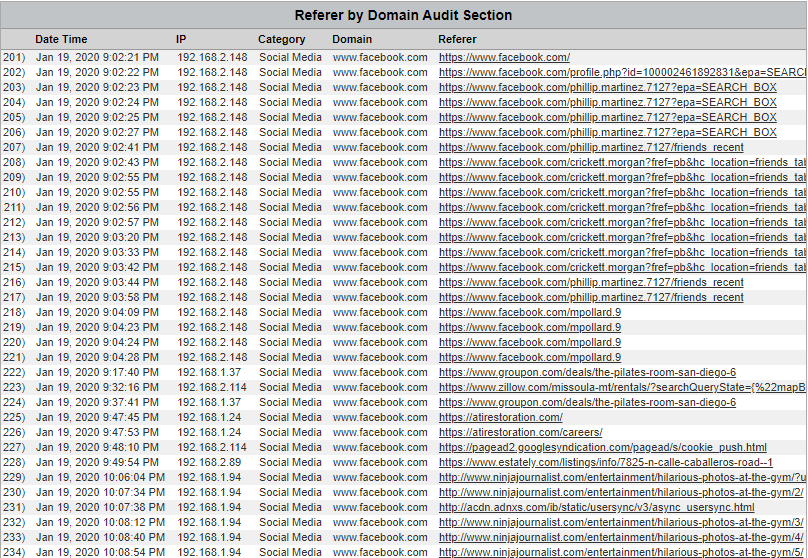 Table - Audit - Bytes by Groups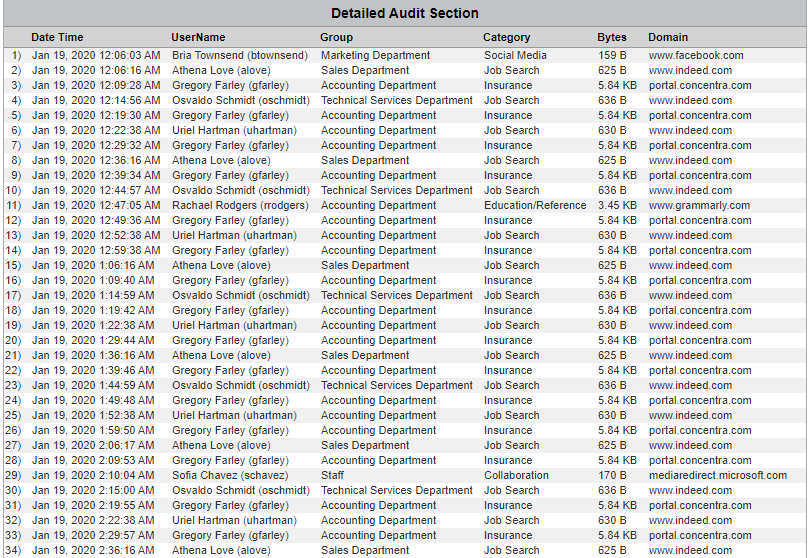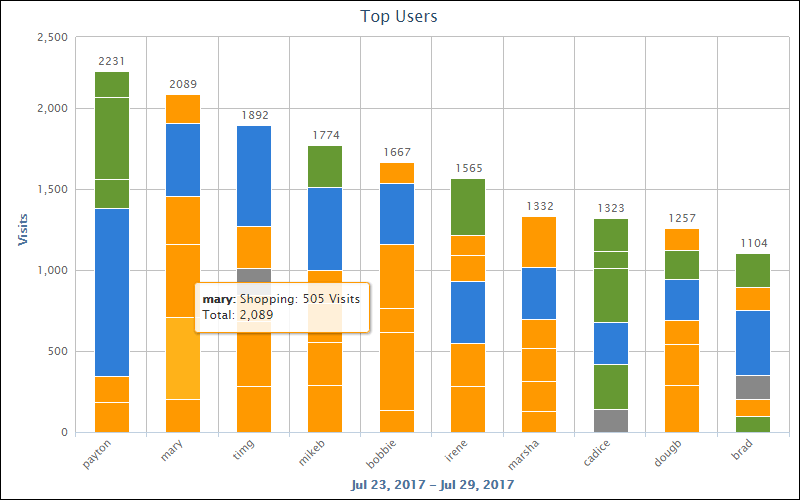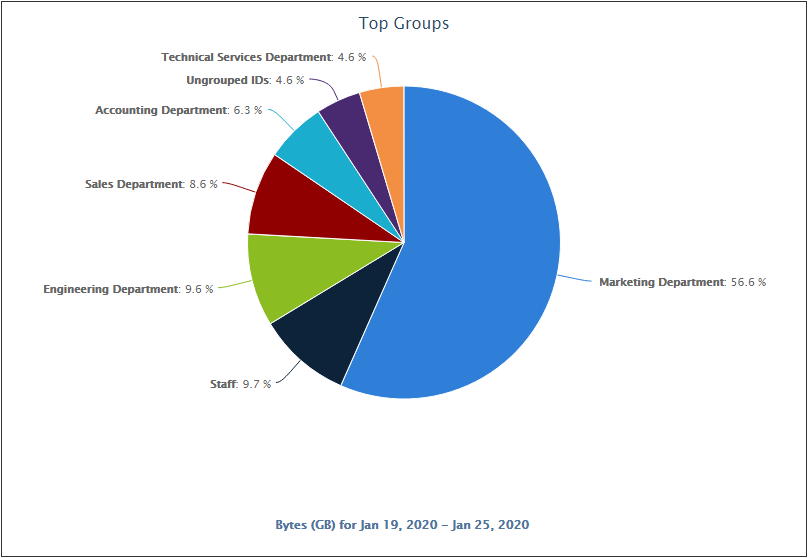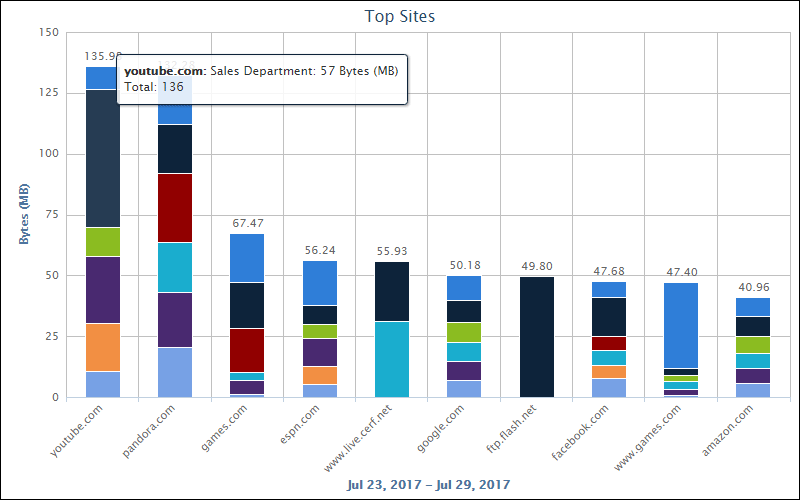 View More
Charts and Reports
View Less
Employee Web-Use Behavioral Analytics
Expose abnormalities in user activity.
Identify potential insider threat behavior.
Flag possible legal liability issues.
Assess trends for data breach exposure.
Observe patterns for lost productivity.
Manage Employee Cloud Usage
Discover all cloud applications being accessed in your organization.
Expose both corporate-sanctioned and employee-introduced cloud services.
Identify risk and analyze usage of your network resources.
Meet security and compliance requirements while safely adopting cloud services.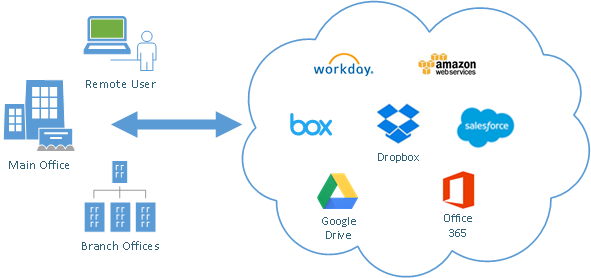 Manage Employee Cloud Usage
Advanced Threat Protection
Keep out malware, Trojan horses, spyware, phishing attacks, and more.
Identify and stay ahead of a growing number of malware sites.
Inspect or "tunnel" HTTPS by Web site, category, or user ID.
Prevent crashes, slowdowns, and information theft.
Even More CyBlock Differences
Identify Human Action
Identify Human Action
See actual Web browsing activity.
All background clutter is removed.
Determine user time online.
Easily manage human factor.
Bandwidth Performance Management
Bandwidth Performance Management
Trigger alerts and throttle bandwidth.
Set byte usage threshold limits.
Cap or block nonessential bandwidth.
Identify bandwidth hogs in real time.
Threat Protection
Threat Protection
Secure Employee Web access.
Block malware and phishing sites.
Combat cybersecurity threats.
Inspect HTTPS traffic for malware.
Manager Access
Manager Access
Simple manager-ready reporting.
Deliver reports directly to managers.
Provide secure limited-access portal.
Easily collaborate and share reports.
Four Easy Deployment Options
Virtual - Easy-to-deploy virtual appliance.
Appliance Rack & Mini - Simple on-site turnkey solutions.
Cloud Service - Quick setup and low administrative costs.
Hybrid - Combines local and cloud benefits.
What our customers are saying about CyBlock:
"CyBlock has helped my company improve productivity from our personnel by 60% since we implemented it's use within our network. This has been an invaluable tool that I'd recommend to anyone in need of filtering and blocking technology! Thank you Wavecrest"!
–Chris Warren The Five Star Institute
"CyBlock has for three years been a vital tool in our efforts to manage some 16,000 users' behaviour on the Web. Excellent functionality coupled with strong reporting capabilities has made our job much easier!"
–Jonas Sultan, AstraZeneca, Sweden
"We are pleased with the CyBlock product. We have been live with it for about 1 month now and find it to be useful for tracking our web usage. Yesterday I saw the activity light on our router flashing furiously so I ran an audit report and found out why by seeing which site(s) a couple of users were accessing."
–Phil Niles, Cottingham and Butler, Iowa
"Even though we have a full T1 at each location, I'd still say the benefit from more bandwidth is worth the cost of the software. I found out that one of my users downloaded a program that was hitting the Internet 9,000 times an hour. Needless to say that program has been removed."
–Roger Lewis, Northwest Bank and Trust, Iowa
Why Us
Industry Leader Since 1996 – Stability, Experience, and Knowledge.
Global Customer Base – Customers on every continent except Antarctica.
The Right Focus – Concentrating on The Human Factor.
Best-of-Breed Products – Visibility, Compliance, Security, and Productivity.
Exceptional Support – Dedicated, Effective, and Responsive Support.
Best Value in Key Areas – Functionality, Price, Support, and Customer Service.
© Copyright 1996-2021 Wavecrest Computing. All Rights Reserved.