CyBlock for Small Business
A perfect fit for your small business. Get easy-to-use employee Web filtering and reporting, real-time monitoring, bandwidth management, and more--along with experienced, personal support.
The CyBlock Difference
Secure Web Content Filter
Secure Web Content Filter
Manage real-time Web traffic.
Optimized SSL Inspection.
Limit employees' time online.
Restrict or allow certain sites.
Policy and Compliance Management
Policy and Compliance Management
Ensure the human factor is managed.
Enforce Acceptable Use Policy.
Verify compliance to CIPA & HIPAA.
Continuous improvement process.
Smart Engine Analytics
Smart Engine Analytics
Utilizes machine-learning algorithms.
Technical data easier to consume.
Provides actual Web browsing activity.
Accurate time online calculation.
Comprehensive Employee Reporting
Comprehensive Employee Reporting
Real Web browsing activity reports.
Deeper Level of User Activity Analysis.
Dramatically reduce time to analyze.
Customizable, interactive reports.
Accurately identify user clicks.
Deeper Forensic-Level User Audits
Deeper Forensic-Level User Audits
Complete view of every link clicked.
See the exact search terms entered.
Easily segment user activity.
Reduce the time to analyze big data.
Manage Guest Networks
Manage Guest Networks
Identify potential guest Wi-Fi risks.
Enforce your AUP for guests.
Control HTTP & HTTPS traffic.
Captive portal terms of service page.
Bandwidth Performance Management
Bandwidth Performance Management
Trigger alerts and throttle bandwidth.
Set byte usage threshold limits.
Cap or block nonessential bandwidth.
Identify bandwidth hogs in real time.
Threat Protection
Threat Protection
Secure Employee Web access.
Block malware and phishing sites.
Combat cybersecurity threats.
Inspect HTTPS traffic for malware.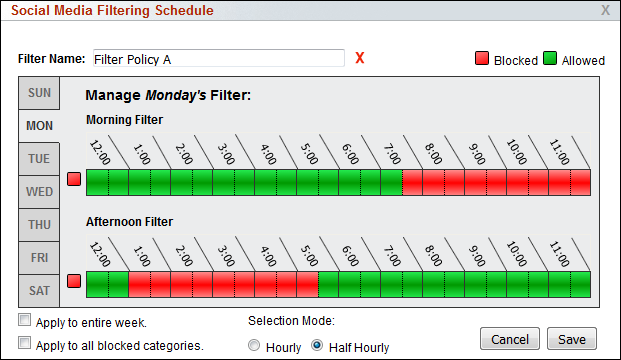 Limit Employee Time Online
Advanced Employee Web Filtering
Apply a filtering schedule by day, hour, or half hour.
Configure policy exceptions for different users and groups.
Use white & black lists to restrict or allow access to certain sites.
Enable users to bypass a blocking action with coaching.
Enable the Safe Search feature in all browsers.
Block prohibited search terms from being searched.
Block based on the content type being accessed.
Inspect or "tunnel" HTTPS by Web site, category, or user ID.
Employee Web-Use Behavioral Analytics
Expose abnormalities in user activity.
Identify potential insider threat behavior.
Flag possible legal liability issues.
Assess trends for data breach exposure.
Observe patterns for lost productivity.
Manage Employee Cloud Usage
Discover all cloud applications being accessed in your organization.
Expose both corporate-sanctioned and employee-introduced cloud services.
Identify risk and analyze usage of your network resources.
Meet security and compliance requirements while safely adopting cloud services.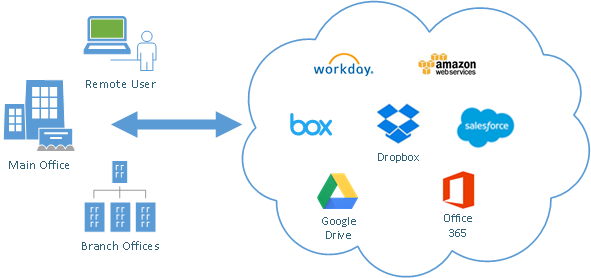 Manage Employee Cloud Usage
Cloud Security and Industry-leading Compliance
Keep out malware, Trojan horses, spyware, phishing attacks, and more.
Gain visibility into encrypted HTTPS traffic to apply polices and eliminate risks.
Consistent policy enforcement and security for all users regardless of location.
Our cloud data center is state-of-the-art SSAE 18, SOC 3, SOC 2 certified.
HIPAA and HITECH audited infrastructure.
Five Easy Deployment Options
Windows - Simple Windows Installer.
VMware - Easy-to-deploy virtual appliance.
Appliance Rack & Mini - Simple on-site turnkey solutions.
Cloud Service - Quick setup and low administrative costs.
Hybrid - Combines local and cloud benefits.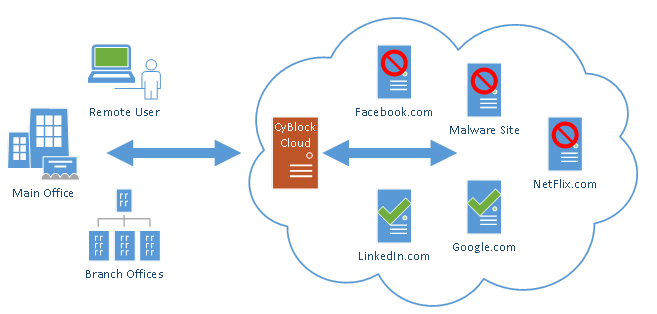 Cloud Deployment Option Example
Why Us
Industry Leader Since 1996 – Stability, Experience, and Knowledge.
Global Customer Base – Customers on every continent except Antarctica.
The Right Focus – Concentrating on The Human Factor.
Best-of-Breed Products – Visibility, Compliance, Security, and Productivity.
Exceptional Support – Dedicated, Effective, and Responsive Support.
Best Value in Key Areas – Functionality, Price, Support, and Customer Service.
© Copyright 1996-2020 Wavecrest Computing. All Rights Reserved.